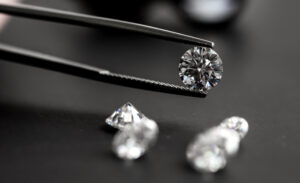 The solitaire ring style is one of the prominent and classic diamond ring styles and they are used as engagement rings for generations. The design is simple as the ring consists of just one center diamond. The center stone can be a diamond or any other gemstone. As there is only one stone in this ring setting, the center diamond grabs all the attention. A solitaire ring with a round cut diamond and a knife-edge ring design is a very popular engagement ring setting.
As we already mentioned, solitaire rings are stunning and popularly used as engagement rings. But do you know what other features of this ring make it popular? Read below to find out.
Highlights The Center Stone
Solitaire rings have only one center diamond and whenever you look at them, your focus will be on the center diamond. So if you have a gorgeous center stone, you may prefer a solitaire ring setting to showcase the diamond's beauty. The minimalistic design of a solitaire ring allows more light to enter the diamond, resulting in greater sparkle.
Extremely Versatile
Solitaire diamond rings are very simple in their looks and can easily go with anyone's wedding attire and other jewelry. Also, almost all ring bands can be used with a solitaire setting.
Less Expensive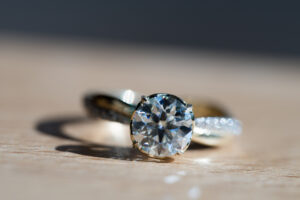 Solitaire rings have minimal designs hence their prices are also low compared to other settings. Sometimes, you might have to compromise on diamonds due to financial constraints. This ring setting saves you a considerable amount of money and this money can be used for purchasing a larger and more magnificent diamond that you love.
If you choose a lab-grown diamond as your engagement ring center stone, you can cut down the cost further. Many misunderstand that lab-grown diamonds are less expensive than natural diamonds because they are of substandard quality. In fact, lab-grown diamonds are as good as natural diamonds and no one can distinguish between them just by looking.
Accommodate Almost All Diamond Shapes
There are different cuts for a diamond and not all ring designs can be suitable for all diamond shapes. But in the case of a solitaire ring, this is not a problem. Almost all diamonds with any shape or cut can be easily fixed on a solitaire setting.
Easier Cleaning
In a solitaire ring setting, there are very few crevices and intricate areas where dirt can get accumulated. So you may not have to worry every now and then about cleaning your ring.