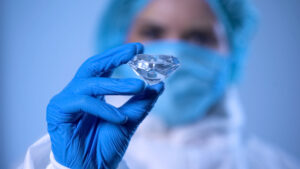 Men's wedding bands don't have to be plain and simple. You can add different gemstones and design elements to them to create a statement and add a distinct look. If you are having trouble with choosing his wedding band, then read along to find out the tips to find the find best one for him.
Defining A Style For His Wedding Band
Like choosing engagement rings, selecting a wedding band that has to be worn forever may look overwhelming. However, you can get the perfect option if you are able to define his style.
Consider his work and other activities he likes to engage in. If he works in a hands-on career or likes to engage in strenuous activities like hiking, sports, etc., then it is better to avoid rings that come with ornate details, as gemstones and intricate design elements can get damaged easily. Therefore, go for simple rings if your fiancé is one among them.
But if his work and hobbies are subdued, then rings with extravagant designs and gemstones can be a great option for him.
Additionally, pay attention to what kind of jewelry he usually wears. If he has a thing for shiny ornaments, he might probably like wedding bands studded with diamonds or other gemstones. But if diamonds sound a little bit extra for your budget, then consider lab grown diamonds or diamond simulants to make the wedding band more affordable.
On the other hand, if he is not used to wearing jewelry, it is better to keep the band simple, as he won't feel uncomfortable with it.
Metals For Men's Wedding Band
Yellow gold is one of the most commonly used options in wedding bands because of the warm look they offer. Rose gold can also be a wonderful option, however, some people believe that it has a feminine touch because of its color. But warmer shades of rose gold can be a unique option for men.
White metals including white gold and platinum can also be a perfect option, as they can offer a cool and neutral appeal.
Some other options in men's wedding bands and are palladium, stainless steel, titanium, tungsten, etc.
Gemstones For Men's Wedding Bands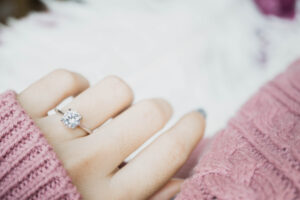 Most gemstones are now commonly used in men's wedding bands including diamonds, sapphires, rubies, etc. You can set small stones on the band of the ring to give it an extravagant look.
Additionally, make sure to consider the budget when getting men's bands. Wedding bands that are plain and simple will be more expensive. On the other hand, bands that come with diamonds and other gemstones can be costly.