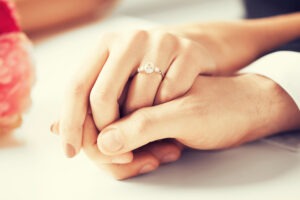 The setting is an important factor that you have to consider when choosing your engagement ring, as it plays a great role in how your ring appears. There is a wide variety of options when it comes to engagement ring settings. Therefore, we list some of the popular settings in engagement rings along with their benefits and drawbacks for your knowledge.
Solitaire Setting
This setting is well-known for its simplicity. It uses small claw-like structures, which are known as prongs, to hold the stones. This setting features a big center stone set on a simple band. It offers a great way to showcase your center stone, as there are no other stones or embellishments on it.
Pros: This ring setting offers excellent brilliance because of its ability to facilitate the entry of light to the stone without any hindrance, as there is only a small amount of metal covering the stone. The prong setting can offer maximum exposure to the center stone thereby enhancing its appearance. It creates a great option for people who look for minimalistic designs for their engagement rings.
Cons: The prong setting used in a solitaire ring can elevate the stone thereby making it vulnerable to damage. So it might not be a great option for everyday use. Additionally, as the stone is held by small prongs, they can get loose over time which can increase the possibility of losing the stone.
Halo Setting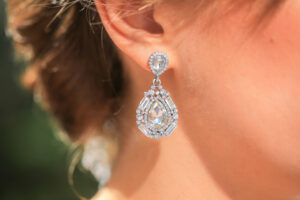 The halo setting features small diamonds surrounding a center stone thereby creating a great choice for people who want great bling for the amount they spend. There can be one or more layers of small diamonds surrounding your center diamond. As small diamonds are significantly less expensive than bigger diamonds, this setting can be an affordable option for people who love shiny rings. To make their halo rings more affordable, a lot of people choose lab grown diamonds instead of mined ones, as these synthetic stones are less costly.
Pros: It can enhance the brilliance of your center stone and give it a bigger appearance than it really is. The small stones can offer additional protection to your costly center diamond.
Cons: Cleaning this ring can be a difficult task because of the large number of small diamonds involved in it. The tiny prongs that hold the small stones can get loose easily thereby increasing the chance to lose them.
Other common engagement ring settings you can consider include bezel, three-stone, and pave settings. But make sure that you are aware of their benefits and drawbacks before choosing a setting for you.