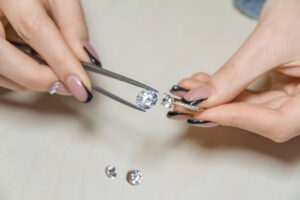 The practice of engraving a personal message on the band of their engagement rings and wedding bands is common among couples. This can help you to customize your engagement or wedding ring thereby making it unique.
Now it is also possible to add engravings to your stone in addition to the band. Special messages can now be added to your diamond to make it unique and personal. A lot of jewelers now provide the option to engrave the diamond of your engagement ring with a special symbol, message, or date. This can be a great option to customize your engagement ring.
What To Engrave On Your Diamond?
Your diamond usually comes with an engraving that shows a unique identification number given by the gemological lab that graded the stone. In the case of future disputes, this number will come in handy. Apart from this identification number, you can add additional engravings to your stone to make them special and unique.
Whether it be a symbol, a small message, initials, dates, a pattern or design, and a bible verse, it is now possible to engrave them to your stones with great accuracy and precision. If you want to make your diamonds unique, then ask your jeweler whether they provide diamond engraving services.
Apart from customizing your engagement ring, engraving your diamond can help to identify your diamonds if they are lost or stolen. Hence, engraving diamonds can be beneficial for you in different ways.
How Diamonds Are Engraved?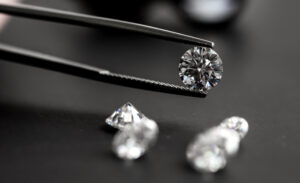 The technology that is used to engrave diamonds changed greatly over recent years. Before a few years, hand tools were used to create engravings in diamonds. However, the results were not accurate with these tools.
After the hand tools came engraving machines that show great efficiency and accuracy in engraving diamonds. The technology again progressed and laser inscription techniques were introduced recently. This involves the use of laser rays to create diamond inscriptions. This method can produce efficient and precise results.
A lot of people believe that it won't be possible to sell diamonds if they are engraved. However, you can remove the engravings with the aid of a jeweler so that your diamonds can be sold for a better price.
The diamond engraving techniques can be used on both natural and lab grown diamonds. Additionally, the engravings won't affect the brilliance and sparkle of your diamonds and they can be noticed only when viewed under magnification. So, you needn't worry about the engravings affecting the appeal of your diamonds.