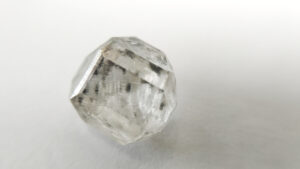 Fluorescence is a factor that can impact the value of your diamonds. About 30% of diamonds exhibit fluorescence, but this phenomenon might not be visible in all cases. How fluorescence affects different diamonds can vary. Therefore, it is important for you to know about this effect before getting your diamond rings or other pieces of diamond jewelry.
What Is Fluorescence In Diamonds?
Fluorescence can be defined as a diamond's tendency to exhibit a soft glow when exposed to UV rays. Not all diamonds have this effect, about 30% of diamonds tend to exhibit this property.
Fluorescence can positively or negatively affect your diamonds' appearance. Gemological labs grade the fluorescence of diamonds on a scale from "None" to "Very Strong". If the fluorescence grade is "None", then this effect won't be visible on your diamonds. The grade "Faint" or "Slight" is considered weak fluorescence and it won't affect the appearance of a diamond. When the fluorescence level is medium, it can have a small impact on the stone, but when this effect is graded "Strong" or "Very Strong", your stone might show strong color when viewed under UV light.
If a diamond has fluorescence, it can emit a visible glow when UV rays strike it. Diamonds with fluorescence most commonly emit blue color, however, shades of yellow, red, white, and green can also be exhibited by these stones. The intensity of fluorescence can greatly vary between diamonds. This phenomenon can affect both natural and lab grown diamonds. Therefore, it is better to check your diamonds in person to find if they have this effect whether you choose natural or synthetic stones.
Is Fluorescence Important For Diamonds?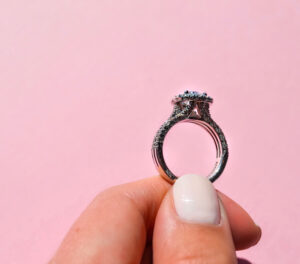 The fluorescence is not found to have a great impact on diamonds in most cases unless it is very strong. This effect can either enhance or reduce the appeal of diamonds. The bluish tint created by this phenomenon can be beneficial for diamonds with lower color grades (J-M), as the yellow color present in them will be neutralized by it. Hence, the diamonds can appear more colorless because of the presence of this effect.
However, if this effect is present in diamonds with higher color grades (D-F), then the beauty of these stones can be reduced because of the colored tint exhibited by them under UV light.
Fluorescence is considered a flow in diamonds, so a lot of people choose stones with this effect because of the small reduction in their price. But the choice can be solely dependent on your preferences.