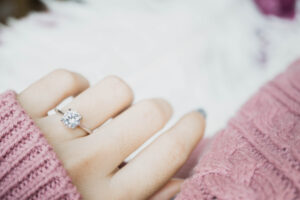 As the popularity of lab-grown diamonds and diamond simulants grows, so does the amount of questions that come with it. There's a lot of contradicting information out there concerning the differences between lab-created diamonds and diamond simulants. Both are not the same, despite popular belief. Since more and more people are trying to avoid mined diamonds for their engagement rings because of their environmental impacts, the relevance and the demand for diamond simulants and lab diamonds are increasing.
In this article, we will take a look at how diamond simulants are different from lab-grown diamonds and which one is better.
Diamond Simulants
Diamond simulants are gemstones that are made to resemble diamonds but are not identical to diamonds in terms of appearance or composition.  The chemical and physical characteristics of diamond simulants are not the same as that of natural diamonds, hence they're less expensive. Simulants can be identified from real or lab-grown diamonds by their flaming glitter, which can be seen with the naked eye.
Lab-Grown Diamonds
Diamonds created in a laboratory are made from the carbon diamond seeds of already existing diamonds. Advanced technology, such as tremendous pressure and heat or a specific deposition technique called CVD, mimics the natural diamond production process. Lab-made diamonds are almost impossible to distinguish from mined diamonds, even by a skilled gemological expert, and they can only be recognized after intensive scientific examination with specialized equipment.
Diamond Simulants: Pros
Many prominent diamond simulants are significantly less expensive than both real and lab-created diamonds. Many couples like simulators because they allow them to design their fantasy engagement ring without going over budget or reducing the size of the central rock.
Because they are lab-generated and do not require additional mining, diamond simulants are a sustainable solution. The refraction pattern of most diamond simulants is different than that of diamonds, giving them a heightened blazing brilliance.
Lab-Grown Diamonds: Pros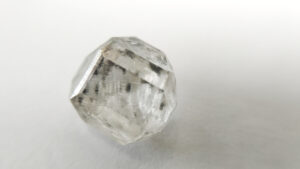 Natural diamonds of equivalent size and quality are slightly more expensive than lab-made diamonds of equal size and grade. They're a more cost-effective way for couples to design their dream engagement ring without compromising design preferences or spending too much.
Lab-grown diamonds are a sustainable option that doesn't require any fresh mining. They have the same chemical make-up as natural diamonds and have the same durability. They are also valuable treasures that keep their value exceptionally well over time.