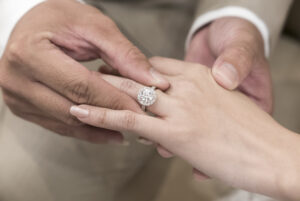 It can be conflicting to choose between round and fancy-shaped diamonds, as the properties and look of these stones can greatly vary. While round diamonds boast their exceptional brilliance, fancy-cut diamonds are known for their unique appearance. So if you are confused between choosing round and fancy diamond shapes, then read along to know which is the right option for you.
Round Diamonds
Being the most commonly used option for diamond rings and other pieces of jewelry, round diamonds can create a traditional option for you. If you prefer to go with the classic options, then round is the best option to consider.
The following are some of the benefits you can get by choosing round brilliant diamonds:
They Offer A Traditional Look: Round brilliants are the first choice of brides who opt for traditional options. This commonly used option can offer a classic and elegant look for your ring.
They Offer The Highest Brilliance: The brilliance and sparkle of round diamonds cannot be beaten by any other diamond shape. The facets of these stones are arranged in a perfect way to reflect light and offer maximum shine.
They Hold Great Value: Natural round brilliant diamonds have great value, especially, those that come with higher quality grades. Hence, they can be a wonderful investment for you.
Apart from the impressive benefits, there are some drawbacks associated with this diamond shape. Some of the disadvantages associated with round diamonds are:
Higher Price Ranges: Round diamonds are more expensive than other diamond shapes. So getting round diamonds might not be affordable for everyone, especially those with higher carat weights and quality grades.
They Might Look Smaller Than Some Fancy Shapes: Round brilliant diamonds might look smaller than many other diamond shapes even if the carat weights are the same. So they might not be a better choice for people who prefer bigger diamonds for affordable rates unless they are getting round lab grown diamonds.
Fancy Diamond Shapes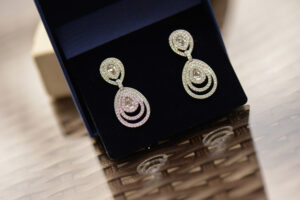 All diamond shapes other than the round diamonds are together called fancy diamond shapes.
There are certain excellent advantages associated with fancy-shaped diamonds.
They are more affordable than round diamonds
They are available in a wide variety of shapes (including oval, heart, pear, cushion, etc.)
Some fancy shapes like oval and princess-cut come with great brilliance.
They offer a unique appeal
There are also some drawbacks associated with these stones.
They cannot offer the brilliance and sparkle of round diamonds.
Some fancy diamond cuts like princess, pear and marquise are more prone to chipping because of pointed edges.
Their availability might be less when compared to round diamonds.
So be sure that you are aware of the pros and cons when choosing between round and fancy diamond shapes.