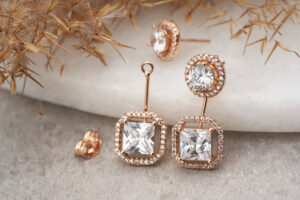 There aren't many items of jewelry that are as classic and adaptable as diamond earrings. Diamond earrings are a great choice whether you're dressing up for a big occasion or just want to add a little luxury to your regular outfit. Let's examine the appeal of these extravagant items in more detail.
Beauty
Diamond earrings are a timeless piece of jewelry that is always in fashion. They are a versatile addition to any jewelry collection because they match a wide range of attire, from formal gowns to casual jeans and a T-shirt. Diamonds are a great showstopper due to their brilliance and shine, and the quality of the stones in your earrings can range from inexpensive to investment grade.
Varieties
Diamond earrings are a popular option for many events because they are available in a wide range of styles, shapes, and sizes. Each outfit can benefit from the beauty and sophistication that diamond earrings can bring, whether they are simple stud earrings or extravagant chandelier designs.
The most common type of diamond earring is the classic style known as a "stud earring," which has a single diamond placed in a prong or bezel setting. Hoops earrings are a timeless design that can be worn with both formal and casual outfits. They have diamonds set along the hoop, which makes the design glow and dazzle. Drop earrings have a diamond or several diamonds that dangle from a stud or hoop setting, giving them a graceful and chic appearance.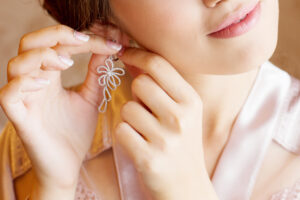 Diamonds are arranged in numerous tiers on extravagant chandelier earrings, which hang from a stud or hook to produce a striking visual impact. A smaller, more delicate design with diamonds studded around the front distinguishes these contemporary iterations of the traditional hoop earring as the "huggie earring." In diamond earrings, the diamond's cut and shape, such as round, princess, pear, or marquise, as well as the metal used for the setting, such as gold or platinum, can all be different.
For those preferring a classic and simple look, a simple stud or hoop earring with a single diamond piece will be appropriate. Drop or chandelier earrings can be excellent choices if you're searching for something more ornate and striking. These designs have several diamonds that dangle and dazzle as they move, giving them a glam and expensive appearance. For formal events like weddings, galas, or red carpet appearances, they may be ideal. Additionally, there are some distinctive and cutting-edge styles available, like huggie earrings and ear climbers, that are gaining popularity. For those who desire to stand out from the crowd, these designs provide a modern twist on conventional earring patterns.